BACK TO SCHOOL JAM - COMMUNITY DAY - HEALTH FAIR & SCHOOL SUPPLIES GIVE AWAY
Members of "Evanston Own It" Initiative Provide $13,500 Donation for 2016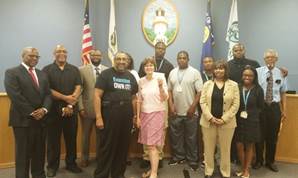 On Monday, July 27, members of the "Evanston Own It" initiative donated all of the proceeds from its June 19 choir concert, "Evanston Sings," totaling $13,500, to the City of Evanston's Youth & Youth Adult Division to help fund the 2016 Mayor's Summer Youth Employment Program. The donation was presented at the Evanston City Council meeting by Pastor Zollie Webb, Pastor Clifford Wilson, and Reverend Patricia A. Efiom.
"We are committed to providing our youth with meaningful opportunities to come to know and be in partnership with the larger community. We believe that through 'Evanston Own It' we will help to create a stronger, safer Evanston," said Rev. Efiom of Ebenezer AME Church.
Throughout the year, faith organizations have hosted a series of educational and informational events and activities that encourage community involvement in reducing the amount of youth violence in Evanston. The faith organizations include Bethel AME Church, Christ Temple Missionary Baptist Church, Ebenezer AME Church, Faith Temple Church of God in Christ, First Church of God Christian Life Center, Fisher Memorial AME Zion Church, Friendship Baptist Church, Mount Pisgah Ministry, Mount Zion Missionary Baptist Church, New Beginnings North Shore Church, New Hope CME Church, Second Baptist Church, Sherman United Methodist Church, and Springfield Baptist Church. For a list of upcoming events, visit
cityofevanston.org/evanston-own-it
.
The "Evanston Own It" proclamation is a result of a meeting of faith leaders and Mayor Tisdahl in July 2014. It acknowledges that every resident deserves to live in a safe, caring community and take ownership of everything that happens throughout the city despite where they live.