LIBRARY & TECHNOLOGY MINISTRY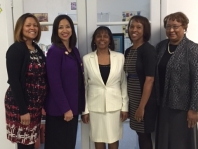 Quarterly Book Club
Annual Book Camp for Youth -Grades 2 through 8
Book Making Classes with Shutterfly
Upon request: Resume Writing and Reading to the Sick & Shut-In
PROMOTING LITERACY
           The library ministry seeks to encourage each parishioner to pursue a path of lifelong learning in doing so becoming
thoroughly prepared unto all good works to the honor and glory of God.
SERVICES
The library resource center provides a com-puter lab for adults as well as children using current Microsoft applications complete with color and black & white printers.
 A computer monitor for visually challenged parishioners
Reading Service to home bound parishioners
Periodic educational programs
RESOURCES
Bethel's library has a yearly circulation that exceeds 2000 items.
Collection strengths include: Biblical reference materials, a strong health section, a broad African American section for all ages and world language materials for all ages.
Clarice Davidson, President